ANNA MARIA ISLAND CONDO RENTALS ARE AIRBNB SUPERHOSTS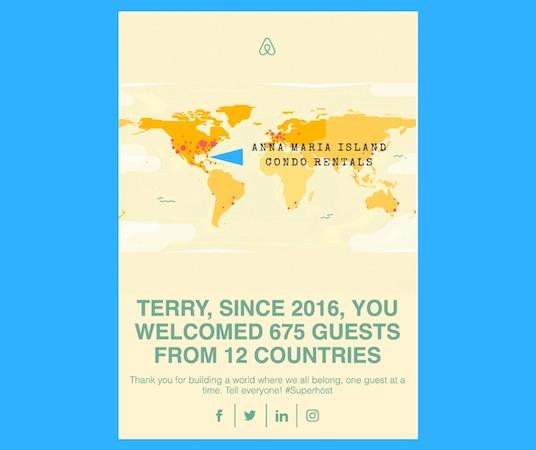 We are experienced and dedicated vacation rental owners with a real passion for hosting and are honoured to be recognized as a 'Superhost' by Airbnb.
There is no denying Airbnb recognizes hosts who work hard. The Airbnb Superhost program boasts over 400,000 members around the world. With a freshly updated program, Airbnb hopes it will enable hosts to become more successful, cater to more guests and ultimately, achieve more bookings.
Our letter from Airbnb ….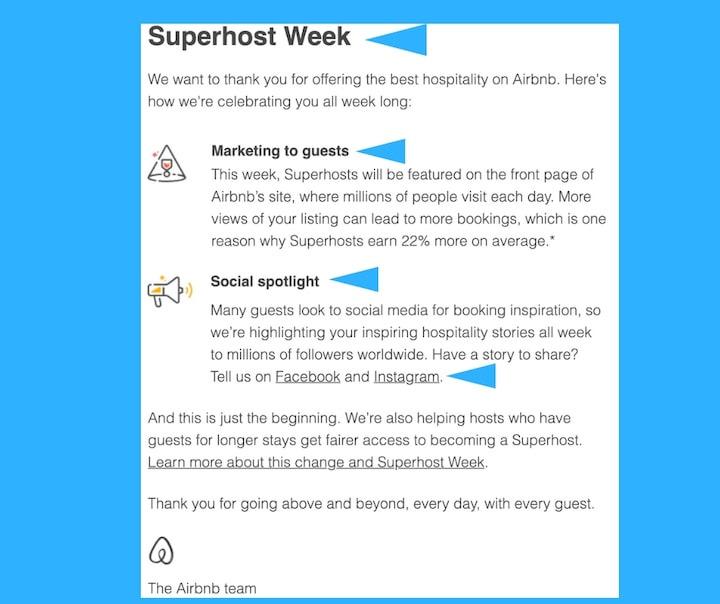 So what did we have to do to become a Superhost? There are certain requirements and we met them all!
Of course we needed to have an account in good standing. Our performance was measured over the past 365 days.

We completed at least 10 trips OR successfully completed 3 long term reservations that total at least 100 nights
We maintained a 50% review rate or higher
Maintained a 90% response rate or higher
We had Zero cancellations (Airbnb allows some extenuating circumstances exceptions)
We needed to maintain a 4.8 overall rating
The real compliment to earning Superhost status is we didn't even apply. But, we did work really hard to meet the programme requirements.
Sounds simple enough? Well, not as simple as you might think. It's an extremely competitive market with millions of Airbnb listings all over the world. We go above and beyond and offer our guests the best service possible.
We are proud of our 100% response rate. When we receive a booking we respond right away. Yes, like a fire cracker. Guests are often surprised and thank us for contacting them so quickly, saying, "we just booked that minutes ago".
Our reviews speak for themselves
Zero cancellations, yep you read that correctly. Pretty awesome, right?

It sure is nice to be recognized and we kinda think we deserve it, but we think it is unfair to take all the credit. We attribute our success to not only our hard work, but to our amazing guests as well!
So as we extend a warm thank-you to Airbnb for this recognition we also send a BIG thank-you to our guests, it is always our the privilege to host you.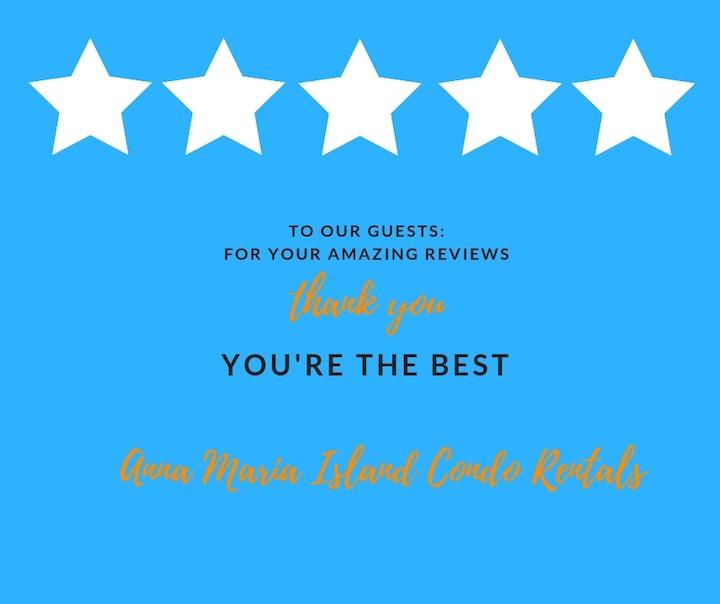 Note: Anna Maria Island Condo Rentals offers the above company names and affiliated links as suggestions only. We are not receiving commissions from the above and are listing only to assist our guests. We recommend services that we or close friends and family have experienced.
The content of this blog is not to be copied, adapted or shared without the written consent of Anna Maria Island Condo Rentals.