Anna Maria Island Condo Rentals Thanksgiving Dining Options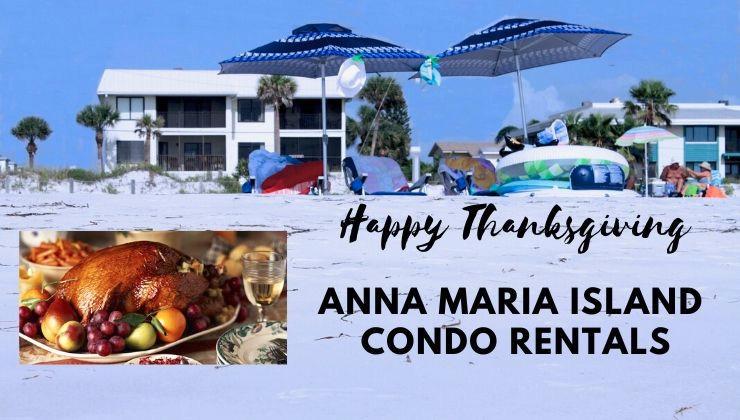 Thanksgiving is a day to remember all things, big and small, that we have to be thankful for. Like many celebrations in 2020 Thanksgiving will look a little different. As we take extra safety precautions we can still enjoy a delicious meal and celebrate the day.
If you don't want to cook Thanksgiving dinner you can enjoy a full holiday feast from one of several local restaurants or grocery stores. Open for either dine-in service, carry-out or delivery, most will be especially busy. Please, to avoid disappointment make your reservations or place your take-out order now.
AMI Beach Café – 4000 Gulf Drive., Holmes Beach
Located directly on Manatee Public Beach this is a great option if you want to enjoy a meal while spending your day at the beach. Open from 7:30 am – 5 pm it is famous for "All You Can Eat" pancakes and fried fish. Celebrate Thanksgiving at the beach while making unforgettable memories to take home with you.
941-778-0784
**Blue Marlin Seafood Restaurant – 121 Bridge Street, Bradenton Beach
A cottage from the 1920s transformed into a top spot for skillfully prepared freshly caught seafood brought over from the docks of nearby Cortez Village. The menu offers a variety of light options as well as some larger entrees. Blue Marlin serves fabulous craft cocktails. After dinner enjoy one of their fabulous desserts.
**Bridge Street Bistro – 111 Gulf Drive S., Bradenton Beach
Located on historic Bridge Street the atmosphere here is relaxed yet refined, the attire is resort casual. This is an out of sight spot that could be missed because it is on the third floor above Island Time Bar and Grill. They do have an elevator, for those who don't desire to climb stairs. Dinner will not be your usual turkey and dressing with their menu offering steak, seafood, lobster tails and duck. They offer indoor and outdoor dining. The outdoor terrace with tables overlooking the Gulf of Mexico offers a fabulous view of the amazing sunsets. A quiet atmosphere with a well appointed menu at reasonable prices
Open from 11:30 am – 9 pm call for reservations 941 – 782 – 1122
**Bridge Tender Inn – 135 Bridge Street, Bradenton Beach
Located very close to the Bradenton Beach Pier you will find this very nice Waterside restaurant. Enjoy dining as you watch the many boats go by all while listening to live music. Bridge Tender Inn serves delicious surf and turf, chicken, pasta, duck as well as giant burgers and sandwiches. They are open from 11:30 am to 9 pm and offer indoor seating, covered patio seating as well as dockside bar seating.
941 – 778 – 4849

Harry's Grill – 9903 Gulf Drive, Anna Maria
Open Thanksgiving day at noon with live entertainment on the patio from 3-5 pm. Thanksgiving dinner special starts at 4 pm with live entertainment beginning at 6 pm.
This is a really fun restaurant serving delicious food with inside or outside dining options available. Like everything about this restaurant, the outdoor ambiance is casual, with twinkling string lights hanging from the palm trees and patio heaters adorning the area. The inside is small but features a large bar and several tables.
The menu offers a varied selection from fresh Mahi Mahi, BBQ, Smokehouse Bacon Burger, chili cheese fries and more! Choose from their large selection of beer on tap and some great local craft beers.
941 – 567 – 5999
Order on-line harrysgrillami.com for curbside pick-up,or delivery.
**Island Time Grill – 111 Gulf Drive S., Bradenton Beach
Located on the Bridge Street circle, the Island Time Bar and Grill is on the ground level below the Bridge Street Bistro. An open-air bar with a patio featuring cocktails along with an extensive menu with items like Surf and Turf, Lobster Mac 'n Cheese, Ahi tuna, Mahi, Grouper, burgers and tacos. Great food with a perfect laid-back Island atmosphere.
Open: 11:30 am – 10 pmCall: 941 – 782 – 1122
The following restaurants/grocery stores options are located off Anna Maria Island, but not far from Anna Maria Island Condo Rentals Inc.
BOSTON MARKET – 5002 Cortez Road W., Bradenton.
Boston Market will be open from 9am-6pm on Thanksgiving Day. Dine-in, carry-out and delivery are available.
A selection of turkey, ham or prime rib Thanksgiving meals for carry-out or delivery that come complete with mashed potatoes, rolls, pie and other sides. The meals are chilled and simply require heating, and options for 4-6 or 12 people are available ($79.99-$159.99). You can also pick out individual mains and sides.
Columbia Restaurant – 411 St. Armands Circle, Sarasota
Located in beautiful St. Armands circle thus icon dating back to 1959 is the oldest restaurant in Sarasota. The Columbia will be open 11 am – 10 pm on Thanksgiving. The restaurant will be serving from their regular menu as well as a Traditional Thanksgiving meal featuring roast turkey with a house-made stuffing made from their great-grandmother's recipe. The meal, costs $24/adults and $6/children under 10), also includes the restaurant's famed Original "1905" Salad, whipped potatoes, homemade cranberry sauce, vegetables, sweet potato casserole and warm Cuban bread. And, treat yourself to a pitcher of their sangria, it is our favourite!
In addition to restaurant's holiday dine in the Columbia will offer a full, traditional Thanksgiving feast for curbside takeout. For $149.95 + tax the convenient, fully prepared holiday meal for 10 people and comes with full reheating instructions.
The meal includes:
* 12-pound roasted whole Vermont turkey
* Columbia stuffing: Our grandmother's recipe of Italian sausage, ground beef, chopped chicken livers, apples, water chestnuts and raisins
* "1905" Salad®: Crisp iceberg lettuce with julienne of baked ham, natural Swiss cheese, fresh tomato, olives, grated Romano cheese and our famous garlic dressing
* Loaf of fresh-baked Cuban bread
* Sauteed baby carrots and green beans
* Whipped russet potatoes
* Homemade cranberry sauce
* Giblet gravy
* Choice of dessert: A whole pumpkin pie or Key lime pie
All orders must be placed by 2 p.m. Thursday, Nov. 19. To order, call 941-388-3987
Orders will be picked up on Wednesday, Nov. 25 at an appointed time between 11 a.m. to 6 p.m. at the Curbside Takeout spots at each restaurant.

CREMESH EUROPEAN RESTAURANT – 7232 Manatee Ave., W., Bradenton.
Cremesh European Restaurant will offer a set four-course dinner featuring creamy potato leek soup, a spring-mix salad with goat cheese and raspberry vinaigrette and a choice of entrée (roast turkey with trimmings, roast pork rouladen, and vegetarian stuffed mushrooms). Dessert is Chef Pavel Hasenohrl's pumpkin cheesecake or peach pie. A glass of house wine or beer (or soda) is included with each adult meal.
Take-out is also available; orders must be placed by Nov. 23.
Details: Reservation only. Reservations will be accepted for seatings from 1-2 p.m. and 4–5 p.m. Adults: $49 per person. $18 children's meal available for ages 11 and under. $20 deposit per person required.
EUPHEMIA HAYE Restaurant – 5540 Gulf of Mexico Dr., Longboat Key
A long time favourite since 1975, enjoy a fine dining Thanksgiving meal at Euphemia Haye Restaurant on Longboat Key. Open from 2-9 pm, the regular menu and daily specials are available. In addition, there will be two Thanksgiving Day specials: a sliced turkey plate with prune stuffing, gravy and honey-glazed carrots or a quarter duck entree with sage stuffing, raspberry sauce and honey-glazed carrots.
A limited number of meals and pies for curbside pickup will be available. Orders must be placed by Friday, Nov. 20.
Harry's Continental Kitchens – 525 St. Judes Drive, Longboat Key
This Longboat Key favourite is open for Thanksgiving from 1:00 to 8:00 pm serving a special three course dinner. The cost is $41/per person $57 with premium wine pairings $32 entrée only. First course includes soup or salad, Five Spiced Butter Nut Squash Soup with Maple Syrup drizzle and Spiced Pecans or Fall Apple Salad Fiji Apple, Craisins, Cherry Tomato, Spiced Pecans, Baby Spinach, Crispy Shallots, Lemon-Honey Vinaigrette. ENTRÉE is fresh Roasted Turkey with Apple-Walnut Stuffing, Giblet Gravy Cranberry Relish, fresh Green Beans Almondine, Mashed Idaho and Sweet Potatoes. For dessert choose from Traditional Pumpkin Pie, Apple Cheese Cake, or Chocolate Pecan Pie.
Harry's Deli TO-GO – Traditional Thanksgiving Dinner $27/person/ENTRÉE includes Fresh Roasted Turkey with Apple-Walnut Stuffing,
Giblet Gravy, Fresh Green Beans Almondine, Cranberry Relish,
Idaho & Sweet Potatoes Mashed, Cranberry-Nut Bread and Dessert Traditional Pumpkin Pie, Apple Cheese Cake or Chocolate Pecan Pie
Order by Sunday, November 22 to pick up Wednesday, November 25 11 am -7:00pm
Deli is Closed Thursday

Whole Food Market – 6701 Manatee Ave. W., Bradenton
Enjoy a Festive Feast of whole roasted turkey or sliced ham with sides of your choice and two desserts, or the a roasted turkey breast dinner for four, which includes the sides of your choice. Paleo and vegetarian options are available. Place orders online or over the phone and pick up your meal in store from Thursday, Nov. 19 until Thanksgiving day. A minimum of 48 hours prior to pick-up is required.
941-795-1800

Note
:
Anna Maria Island Condo Rentals
offers company names and affiliated links as suggestions only. We are not receiving commissions and are listing them only to assist our guests. We only recommend services that we or close friends and family have experienced.