Mark your Calendar — FABULOUS FEBRUARY Events In & Around Anna Maria Island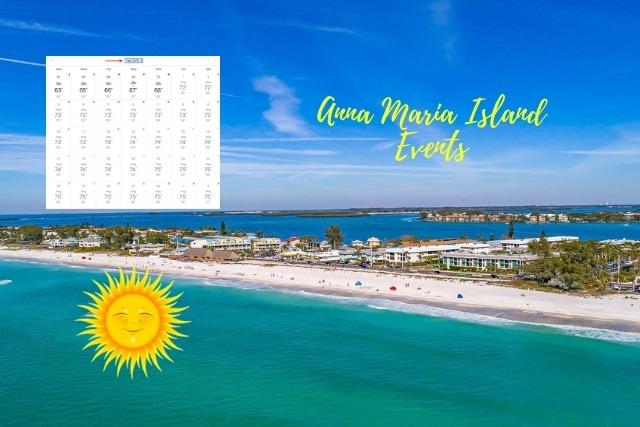 Anna Maria Island (AMI) is known for its palm trees, incredible white sand beaches and beautiful turquoise water. Add to that, the quaint feel of this beautiful destination and you have one of the best places in the world to visit.
Thousands of tourists flock to our Gulf coast area each year to soak up the sun, catch some waves and feel the sand between their toes, but there are more things to do in Anna Maria Island than spending time at the beach. I would be lying if I didn't say heading to the beach to relax isn't one of my favourite things to do, but I also enjoy the many inviting activities the Island has to offer.
Check out this list of things to do while you're visiting Anna Maria Island.
Healthy Walking Tours – Select one or more of these happy, healthy walking tours. Lace up your sneakers and dress for the weather to discover some of the best nature spots Anna Maria Island and the surrounding area has to offer.
Leffis Key: Early Restoration Efforts February 1
Robinson Preserve: Mangrove Migration February 8
Grassy Point & Neal Preserve: Intracoastal February 15
Felts Preserve: Bird Migration Changes February 22
Cost: $25/person 4-pack $80 Series $150 Attend all 7 tours – get one FREE!
To Register or for additional information contact:
On these weekly morning tours you will have lots of time to interpret nature and cultural history. All tours are guided by Professional Master Naturalists and/or NAI Certified Interpretive Guides. All walks are Friday's 9:30-Noon/1:00 pm
February 2 – 3, 2019: The Holmes Beach Arts and Crafts Festival benefits the North American Butterfly Association. Come check out the handmade jewelry, ceramics, fiber art, paintings, stained glass, photography, live music and food plus plants, orchids, handmade soaps, gourmet spices, a green market and more. Free admission. Saturday: 10:00 am – 5:00 pm Sunday: 10:00 am – 4:00 pm
Holmes Beach City Hall, Event Field, 5801 Marina Drive, Anna Maria Island, FL.
February 2 – 3, 2019: 19th Annual Plantation Festival at Gamble Mansion and Plantation. 3708 Patten Avenue, Ellenton, FL. Look for the Landmark white picket fence and turn right into the main park entrance.

Enjoy an arts and crafts show, a student art competition, free tours of the Gamble Mansion, food and beverage vendors and more. 10:00 am – 4:00 pm. Free admission and $1 donation for parking.
While you are in the area, you might consider going to the Ellenton Premium Outlet Mall. It is only about 5 minutes East of the Gamble Mansion and offers some nice outdoor walking as well as some great buys!
February 3, 2019: Enjoy Sarasota's own Ski-A-Rees Water Ski Team and their 1st Sunday afternoon show of the new season at 2 p.m. at Ski-A-Ree Stadium. This free show takes place at 1602 Ken Thompson Parkway (near/behind Mote Marine Aquarium on the water.)
The Ski-A-Rees put on a wonderful show with great music and entertaining announcers. They are a very professional group and their show is non stop, exciting and a great family activity. The skiers display their talent performing tricks and their skill while making a twelve person skiing pyramid. When you go be sure to get there at least an hour early as it usually draws a big crowd. There are bleacher seats, some of which are covered, but most of the seats are in the sun so dress accordingly. Sunscreen and hats for everyone! Bring a cushion if you don't want to sit on the metal seats. We were in the open area which provides a behind the scenes view of the team. Talking to people seated in the covered stands, they were partially blocked from some stunts, but said it wasn't often. You can also bring your own lawn chair. There is a shaded area under the trees where you still have a good view of the show.
Free parking and snacks and drinks are available for purchase.
Although the shows and parking are free, donations are appreciated as the Ski-A-Rees are a non-profit organization.
If you miss their first show on February 2, you're in luck, the Ski-A-Reese Ski Team will also be performing February 10, 2019, February 17, 2019 and February 24, 2019. All shows take place at 2:00 pm at 1602 Ken Thompson Parkway-look for the Ski-A-Reese signs
Visit the spectacular Ringling in Sarasota —

February 4, 2019:
Come out for
Ringling by the Bay
on the Bolger Campiello at The Ringling Museum,
featuring live music and dancing
6:00 pm – 9:00 pm Admission: $5 – $15. Food and beverages will be available for purchase. Tickets may be purchased in the Visitors Pavilion on the day of the event, purchased online at
ringling.org
or by calling
941-358-3180
.
Limited seating is available. Ringling Museum grounds, Bayshore Gardens. 5401 Bay Shore Road, Sarasota.
February 7, 2019: Ringling Undergroun
d – enjoy live music and art in the Museum of Art Courtyard 8:00 pm -11:00 pm. This event features an eclectic mix of local and regional live music. While you're there be sure to check out the display of work by up-and-coming artists in the Museum of Art Courtyard. Select galleries will be open until 11:00pm.
Admission: $15. Free for Members and College Students w/ ID and free with "Art After Five" admission. Ringling Museum of Art, 5401 Bay Shore Road Sarasota, FL. 941-358-3180 or online
ringling.org
February 7 – 18, 2019: The Florida State Fair is held annually at the Florida State Fairgrounds in Tampa 4800 N U.S. Highway 301, TAMPA, FLORIDA
Phone: 813-621-7821

The 2019 Florida State Fair brings 12 Days of Fun, featuring rides, amazing agricultural exhibits featuring over 5,000 animals, excellent craft show and a great variety of fantastic food. Parking is Free at the fair.
You can buy tickets online, at any of our local Publix stores or at the Fair Box Office located on the Fairgrounds open from 9:00 a.m. to 5:00 p.m., Monday through Friday. Fair Box Office – 813-740-4640.
February 9, 2019: There's a street party for you: "Main Street Live!" on Historic Old Main Street in downtown Bradenton. There will be live music starting at 5:00 pm. This popular party closes the street to vehicular traffic and the streets will be lined with arts and crafts vendors and food trucks. Music ends at 10 p.m. but Old Main Street will remain closed until midnight.
February 9, 2019: Anna Maria Island Privateers Thieves Market on beautiful Coquina Beach, Gulf Drive South, Anna Maria Island. From 8:00 am – 3:00 pm, it's a treasure hunt at "The Thieves" Flea Market. With 100's of Vendors you can search for treasures and say hello to the Pirates on their 60 foot pirate ship. Choose from custom made jewellery, t-shirts, golf paraphernalia, fresh produce and more.
Free admission.
February 9, 2019: Family fun at the 5th annual Bradenton Area River Regatta on the Manatee River. This year the Free event features, boat races, food fest to satisfy any appetite, kids zone on both shores of the river, fireworks and more!
Watch the boat races from either the Bradenton or Palmetto river fronts or on the bridge itself. Featuring, Powerboat Superleague Formula-2—splitting the surf at speeds over 120/mph and added this year Formula-3 racing with speeds hitting 100/mph.
Enjoy live music on two main stage venues…In Bradenton—national recording artists and Bradenton natives: We the Kings…and on Palmetto's main stage, country music group: the Andy Pursell Band from Arcadia, FL.
An after dark fireworks display over the river provided by Zambelli Internationale, will light up the sky with pyrotechnic brilliance to end the day with an exhilarating blast of multi-coloured beauty.
Mark your calendar — the all FREE, fifth annual Bradenton Area River Regatta
8:00 am – 10:00 pm Downtown Bradenton's Riverwalk and in Palmetto.
Sunday, February 10, 2019 – New Orleans Nighthawks Jazz Band
Concert Series, Roser Church, 512 Pine Avenue, Anna Maria, FL
The New Orleans Nighthawks are a seven-piece jazz band and have been playing together for about 8 years. Most of the band members are snow-birds coming to Florida between October and April. They play Dixieland and swing tunes in a New Orleans traditional jazz style. With a solid rhythm section from the band's leader on clarinet, two trombones enhanced by banjo, bass, drums and vocalist, they provide a unique and mellow, yet driving and exciting sound. This concert will be held in the Roser Community Church Sanctuary at 4:00 PM. Doors open at 3:00. A free-will offering is appreciated and will help to make these dynamic events possible.
February 12, 2019: It's the 16th Annual Anna Maria Jazz Fest. Featured will be jazz standards of the past 70 years! Proceeds benefit the Anna Maria Island Concert Chorus and Orchestra. $10 advance, $15 at the door. 3:00 pm – 5:00 pm at the Sandbar Restaurant Pavilion, 100 Spring Ave, Anna Maria Island.Tickets: 410-812-2468 or at the AMI Chamber, 5313 Gulf Drive, Holmes Beach, Anna Maria Island, FL.
February 16, 2019: It's the Pittsburgh Pirates Annual Pep Rally 5 p.m. – 9 p.m. Where: Manatee Avenue West & Old Main Street in downtown Bradenton, FL
The Pittsburgh Pirates Spring Training Headquarters in Bradenton, Florida is known as "Pirate City." This years pep rally will feature a photo booth, player appearances and free autographs, games, live music, face painting, various vendors, family fun and more. The Pirates are celebrating their 51st year in Bradenton this year. Show your spirit and wear your best Pirates colors or costume.
February 16 – 17, 2019: Enjoy the 8th Annual J.D. Hamel Park Arts & Crafts Show in the open air. Featuring the creations of talented artists and crafts people from all over. 10:00 am – 4:30 pm both days. Free admission and free parking in the Palm Avenue garage. Main Street and US 41 in Sarasota, across from Marina Jack's.
February 16 – 17, 2019: Enjoy the 3rd Annual Lido Beach Winter Fine Art Festival in an outdoor gallery of original fine art and crafts. Meet with the talented artisans as you view their sculpture, painting, ceramics, woodworking, fiber art, photography, jewellery, metal work and more. Find the piece of art for your home or office that you have been looking for, or commission a piece made specifically for you. Admission is free. 10:00 am – 5:00 pm Lido Key, 400 Benjamin Franklin Drive, Sarasota, FL.
February 16 – 17, 2019: 10:00 am – 6:00 pm both days. Don't miss the 37th Annual Cortez Commercial Fishing Festival, being held in historic Cortez, Florida.
Cortez established itself as a fishing village in the 1800's and is one of the last remaining fishing villages on Florida's southwest Gulf Coast. This annual event has grown from 500 attendees when it debuted in 1981 to 25,000 in recent years.
This fishing festival celebrates the area's commercial fishing industry and features continuous live music, arts and crafts, kid's activities, lots of food, including locally caught seafood.
Admission to the festival is $4; children under 12 are free. Festival proceeds are used by the Florida Institute for Saltwater Heritage (FISH) to expand and restore the 95-acre FISH Preserve east of the village on Sarasota Bay.
Parking is limited. There will be off-site parking with shuttle service available.
While you're here in Cortez, experience "Old Florida" with a walk through the village, past the small charming cottages. Visit the old fish houses, seafood restaurants and the Florida Maritime Museum, which documents a unique culture and traditional life on Sarasota Bay.
February 23 – 24, 2019: It's the 19th annual Fine Arts Festival of Manatee County a juried event that takes place at the beautiful Riverwalk Park in Downtown Bradenton. Open to the public, admission and parking is free in the Bradenton Financial Center, 1402 Manatee Avenue West.
The festival is being held Saturday from 9 am – 5 pm and Sunday from 9 am – 4 pm and features local, regional and national award-winning artists. There will be artist demos, shopping, music vendors as artists display their work in this juried show with cash prizes. Featuring fine craft, painting, jewelry, clay, stained glass, leather and more hosted by the ArtCenter Manatee. Proceeds of this festival benefit ArtCenter Manatee's Education and Outreach programs. Please visit
www.artcentermanatee.org
for more information.
February 24, 2019: Baseball fans…The Pittsburgh Pirates will celebrate their 51st Spring Training season in Bradenton as the home schedule begins with the game vs the Miami Marlins at 1:05 pm at LECOM Field, 1611 9th St W, Bradenton, FL
February, 25 the Pirates take on the Boston Red Sox in Bradenton. Game time 1:05
February, 27
the Toronto Blue Jays are in Bradenton to play the Pirates at 1:05 pm.
Tickets:
mlb.com
Now Through – March 10, 2019: Circus Sarasota celebrating 22 years of Big Top Performances! Previous headliners have included comic daredevil, Sarasota's own international star, Bello Nock and Sarasota's high wire artist, Nik Wallenda.
International circus artists will leave audiences awestruck. Every year features a new cast in an intimate one-ring European style Big Top. This year's show features incredible artistry on the Cyr Wheel, a modern blend of aerial dance and majestic horses, hand-to-hand acrobatics, high wire, teeterboard, juggling and much more.
The all new winter production features performances at various times and dates. Ticket prices range from $15 – $55. Performances take place Under the air-conditioned Ulla Searing Big Top at Nathan Benderson Park behind the Mall at UTC. The Big Top opens 1 hour before show time. Big Top Parking: $5 for local charities. 140 University Town Center Drive, Sarasota, FL.
Contact a ticketing representative at (941) 355-9805 for more information, or purchase tickets online at any time –
circusarts.org
I believe that covers the majority of our February events. Please let us know It there is something that you are interested in that is not on our list.
Anna Maria Island Condo Rentals
will help you find whatever it is that will make your
perfect vacation
,
fabulously perfect!
For the latest up to date news, things to do, special offers, travel tips and more continue to follow our blog @ Anna Maria Island Condo Rentals/
Blog

Note: Anna Maria Island Condo Rentals offers the above company names and affiliated links as suggestions only. We are not receiving commissions from any of the above and are listing them only to assist our guests. We recommend services that we or close friends and family have experienced.
The content of this blog is not to be copied, adapted or shared without the written consent of Anna Maria Island Condo Rentals.