Speggtacular Easter Celebrations on Anna Maria Island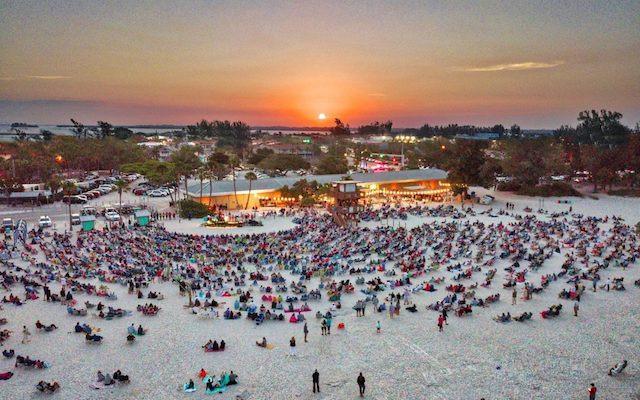 Happy Easter from Anna Maria Island Condo Rentals! With the holiday weekend right around the corner, we're taking a look at a few of our favorite ways to celebrate—including some unique to Anna Maria Island.
When you think of celebrating Easter what comes to mind? Celebrating can include decorating Easter baskets, painting Easter eggs, early morning egg hunts and special church services. You can celebrate Easter in a variety of ways — Anna Maria Island offers some fun events and a great number of services including an Easter sunrise service on the beach!
Easter Worship Services:
Anna Maria Island Churches
Episcopal Church of Annunciation – 4408 Gulf Drive, Holmes Beach, Florida
Call the church for information on Easter services 941-778-1638
CrossPointe Fellowship (Non-Denominational) – 8605 Gulf Drive, Anna Maria
Road to Resurrection Services April 14 – 21 Palm Sunday 9 am
Monday, Tuesday, Thursday, Good Friday all at 7 pm, Easter Sunday 9 am
941-778-0719
Gloria Dei Lutheran Church – 6608 Marina Drive, Holmes Beach, Florida
Call the church at 941-778-1813 for Easter service information
Harvey Memorial Church – 300 Church Street, Bradenton Beach
Call church for service information 941-779-1912
Roser Memorial Community Church – 512 Pine Avenue, Anna Maria, Florida
Good Friday Service – Friday, Apr 19, 2019 @ 7:00 p.m.
Easter Sunday – Sunday April 21, 2019 @ 8:30am Early Worship Service – Sanctuary
8:45am Adult Sunday School
9:00am Adult Book Study
10:00am Worship Service – Sanctuary
Please call the church 941-778-0414 for any additional information.
St. Bernard Catholic Church – 248 S. Harbor Drive, Holmes Beach, Florida
Easter Week Schedule – April 18th 7:00 p.m. Mass of Our Lord's Supper; April 19th 3:00 p.m.; The Passion of Our Lord April 20th 8:00 p.m. Only Easter Vigil Mass
April 21st Easter Mass at 8:30 & 10:30 a.m.
St. Bernard's 941-778-4769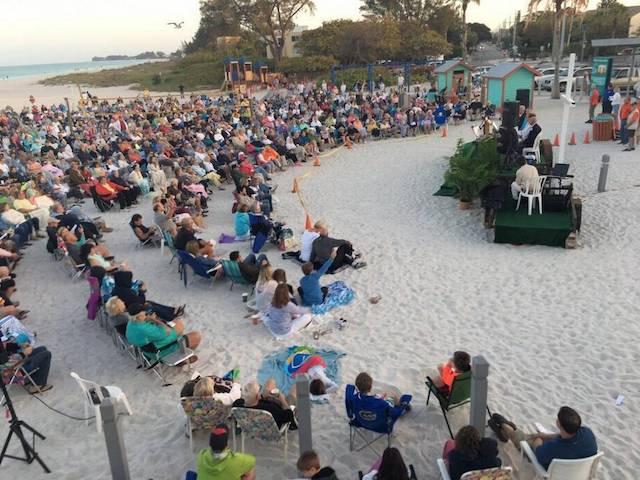 Sunrise Celebration on the Beach — April 21/2019 — 6:30 – 8:30 am
Manatee Beach, 4000 Gulf Drive, Holmes Beach
The Kiwanis Club of Anna Maria Island is once again sponsoring the 55th Annual Sunrise Service at Manatee County Public Beach. Participating are all six Island churches including, St. Bernard Catholic Church, Roser Church, Gloria Dei Lutheran Church,
Episcopal Church of the Annunciation, CrossPointe Fellowship, and Harvey Memorial.
Reflect and worship during this all denominational sunrise service. I am always grateful to spend Easter on Anna Maria Island and find this service is always exhilarating and inviting as everyone joins in singing inspirational Easter music. There is lots of free parking at the beach and to accommodate the anticipated crowd of up to 2,000 people the Island Trolley will begin running at 6:00 a.m. As well, the Anna Maria Beach Café located at the Manatee Public Beach will open at 6 a.m. to serve coffee.
Remember, you will be on the sand so don't forget to bring your beach chairs to sit on.
There will be an offertory collection for those wishing to participate.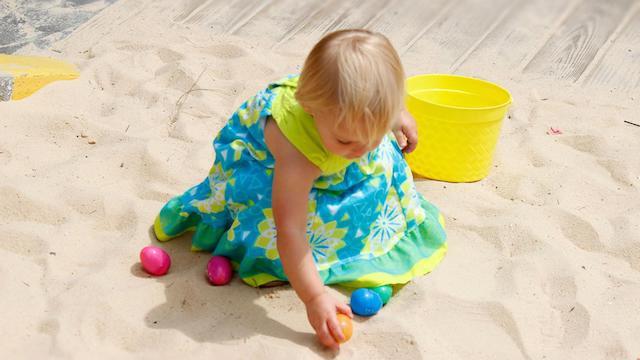 Secular Activities:
Saturday, April 20/2019 Sandbar Restaurant, 100 Spring Avenue, Anna Maria 941-778-0444
At the Sandbar Gazebo beginning at 8:30 a.m. families can enjoy breakfast snacks, coffee and juice for kids aged 10 and under.
An Easter Egg Hunt begins at 9:00 a.m. for kids 10 and under. The Hunt will be held on the beach in front of the Sandbar Restaurant. Don't forget to have your children's Easter baskets ready to fill with eggs collected from the beach (don't worry if you didn't bring baskets, you can pick them up at the Island Dollar store).
Next up, from 9:30-11:30 a.m. is the Annual Easter Egg Roll with the Easter Bunny leading the way down Pine Avenue. Lots of family fun with face painting, games and coloring as kids participate in egg-rolling races. Everyone will enjoy the live music and complimentary framed pictures taken with the Easter Bunny.
Make sure to wear your finest Easter bonnets with a chance to win some great prizes. Again, the local Dollar store is a great place to pick up a bonnet and all the embellishments needed to make it a winner. Bonnet Contest judging will be held at 10:30. First place adult prize is a two-night stay at an Anna Maria Island guest house and kids win a Sandbar lunch with three friends. There will also be second and third place prizes.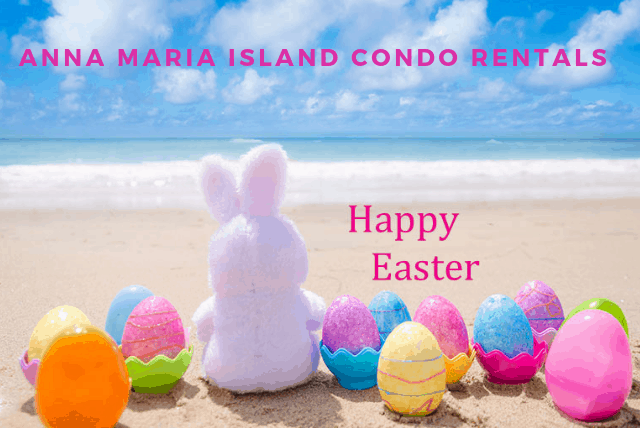 As you can see, while visiting Anna Maria Island there is no shortage of ways to get into the Easter spirit.
We hope that you and your family enjoy a very happy Easter filled with family, fun, beach and sunshine

For the latest up to date news, things to do, special offer, travel tips and more continue to follow our blog @ Anna Maria Island Condo Rentals/Blog
Note: Anna Maria Island Condo Rentals offers company names and affiliated links as suggestions only. We are not receiving commissions and are listing them only to assist our guests. We only recommend services that we or close friends and family have experienced.
The content of this blog is not to be copied or adapted without the written consent of Anna Maria Island Condo Rentals.