December — Holiday Things to Do on or Around ANNA MARIA ISLAND – Anna Maria Island Condo Rentals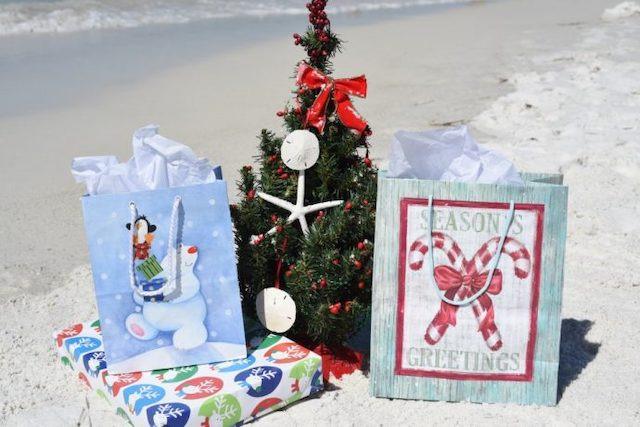 things to do.
December 5 – December 22 — Every Christmas Story Ever Told (And then Some) at Manatee Performing Arts Center located at 502 Third Avenue West in Bradenton. Performing every Christmas story ever told — plus Christmas traditions from around the world, seasonal icons from anicent times to topical pop-culture, and every carol ever sung.
Friday, Dec. 6 @ 6:00 pm — Anna Maria Island Chamber of Commerce tree lighting, 5313 Gulf Drive, Holmes Beach
Holiday Open House from 5-8:00 pm — Holmes Beach holiday celebration when area businesses will stay open late for some holiday shopping. There will be light bites, refreshments and entertainment. Gulf and Marina Drive, Holmes Beach.

Information: 941-778-1541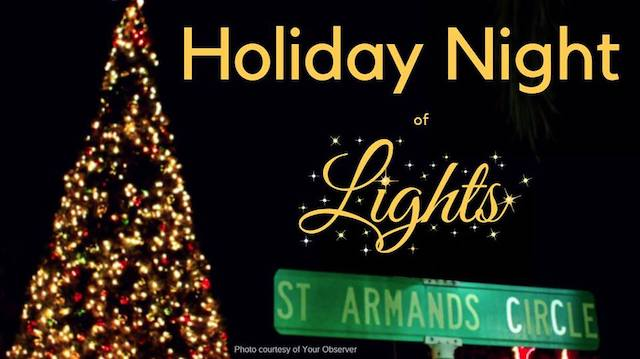 Friday, December 6 — Holiday of Lights on St. Armands
One of our favourite places to eat and shop—St. Armands Circle! This special event "Holiday Night of Lights" is St. Armands official kick off to the holiday season. Join their Christmas carol sing-along at 6:00 pm followed by the tree lighting ceremony. Of course Santa will be there and pictures are available from 6:30-8:00 pm. As you are enjoying your walk around the circle don't miss the live nativity scene at St. Armands Key Lutheran Church. Information:
starmandscircleassoc.com
Saturday, December 7 from 9:00 am-1:00 pm—Holly Berry Bazaar and Food Market, Episcopal Church of the Annunciation, 4408 Gulf Drive, Holmes Beach. Information: 941-778-1638
10:30 am-2:00 pm—Lester Family Fun Day at the Center of Anna Maria Island, 407 Magnolia Ave., Anna Maria. This 18th annual fun day offers lots of fun activities for the whole family. The fun includes pony rides, balloon animals, a dunk tank, crafts, cookie decorating, bounce house and more. There will be burgers, hotdogs and soda available to purchase. Games are 25 cents. And, the most important guest, Santa, will arrive at noon,. Information: 941-778-1908
5:30-7:30 p.m. —Maritime by Candlelight, Florida Maritime Museum, 4415 119th St. W., Cortez. Information: 941-708-6120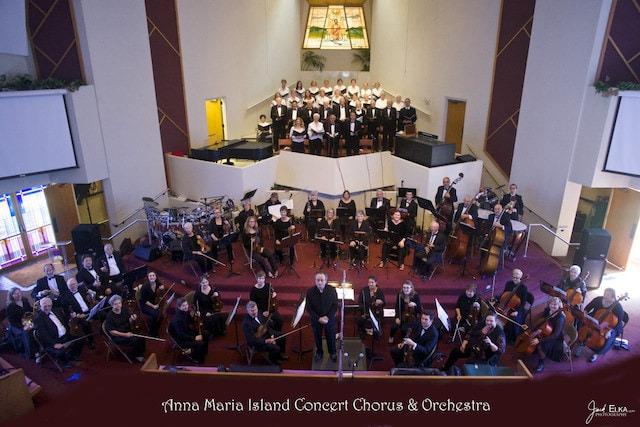 Sunday, Dec. 8 @ 2:00 pm — Anna Maria Island Concert Chorus and Orchestra's "A Glorious Hallelujah!" holiday concert, Palma Sola Presbyterian Church, 6510 Third Ave. W., Bradenton.
Sunday, December 8 at 6:40 pm Roser Memorial Community Church Bethlehem Walk — The walk begins in front of the church, located at 512 Pine Avenue in Anna Maria. Wear a costumes or come as you are (some costumes are available at the church on a First come basis) and bring a flashlight. The walk is a re-enactment of the joy of Christmas Eve with Mary, Joseph and animals travelling from inn to inn with Christmas carols being sung. Upon return to the church the birth of a Jesus Christ will be celebrated and sandwiches, cookies and hot chocolate will be served.
December 12- December 22 — A Classic Crosley Christmas, Manatee Performing Arts Center, Powel Crosley Theater

Enjoy favorite traditions and new celebrations from the Crosley Players. Crosley's
arrive for A Christmas Carol from the 1930s, Music Most Merry with the Mistletones from the 1950s, and hop aboard the Polar Express with siblings Christopher and Agnes Smith from the 1980s. Weather permitting, the opening and closing of each show will occur outside on the back patio and last for about 15 minutes each. It can be cool on the Bay, so dress accordingly.
Friday, Dec. 13 @ 4:00 pm — Holiday Carols in the Park, City Pier Park, Pine Avenue and North Bay Boulevard, Anna Maria. Information: 941-347-0109

5-7:00 pm — Anna Maria Island Centre shopping plaza holiday walkabout, 3218 E. Bay Drive, Holmes Beach. Information: 778-7978

5:30-8:00 pm — Anna Maria Holiday of Treasures, Gulf Drive and Pine Avenue, Anna Maria. Information: 941-374-0109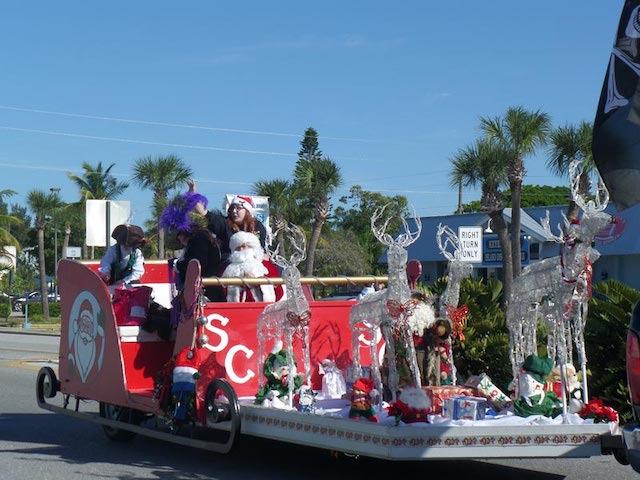 Saturday, Dec. 14 @ 10 a.m. — Anna Maria Island Privateers Christmas Parade
The Privateers annual Christmas parade starts at Bayfront Park in Anna Maria and runs the entire length of the island. It will travel along Gulf Drive and pass right in front of Anna Maris Island Condo Rentals so finding a perfect viewing spot will be easy.
Ending at Coquina Beach in Bradenton Beach where Santa boards the Privateers flagship, Skullywag.
December 14 from 4-8:00 pm — Christmas on Bridge Street
The Bridge Street merchants host this annual Christmas celebration on Bridge Street in Bradenton Beach. Bridge Street will be closed to traffic for this fun event. For everyone's enjoyment there will be live bands, local Sweet Adeline singers, a cornhole tournament and free children's Christmas ornament making activities.
7:00 pm — Holiday Lighted Boat Parade Bradenton Beach
While you are enjoying the holiday festivities on Bridge Street, you can also enjoy the spirit of the season watching owners set sail on their beautifully lit boats. The second annual Bradenton Beach Holiday Boat Parade will begin at 7:00 PM in the Intracoastal Waterway. The boat parade can be viewed by land. The parade will start south of Longboat Pass Bridge head North passing the Bridge Street Pier ending at the Bradenton Beach Marina. In total, the parade is expected to take 60 – 90 minutes.
Tip: Your best viewing will be from the Bridge Street Pier or the Cortez Bridge where the parade ends. These two spots will provide an optimal view of the lighted boats. As the boats approach the Bradenton Beach Marina near the end of the parade they will come right beside the pier before turning into the Marina.
Information: 941-778-2288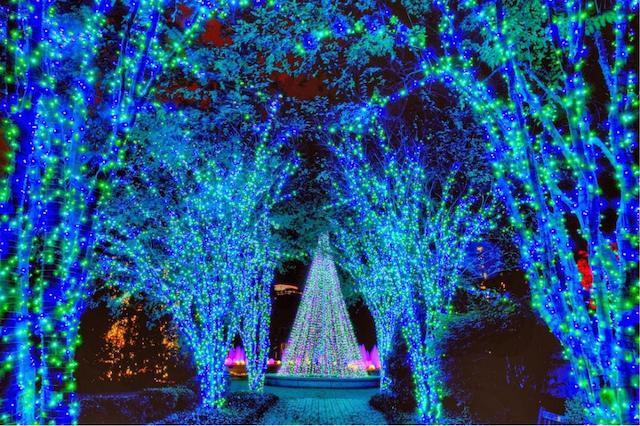 December 14, 2019 – January 4, 2020 — Selby Gardens Lights In Bloom
Stroll through the Selby Gardens at 811 South Palm Avenue in Sarasota. More than two million sparkling lights shine and twinkle transforming the Selby Botanical Gardens at the 16th annual "Lights in Bloom" celebration. You can explore and view the tropical holiday wonderland with nightly visits from Santa and his elves (before Christmas Eve). Take a tour of the holiday decorated Mansion. There will be children's arts and crafts, activities and games, plus live entertainment. Grilled foods will be available for purchase. The gardens is closed on Christmas Day and there will be No Lights in Bloom December 31 and January 3. For tickets and additional information
//selby.org/events/event/lights-in-bloom-2/
Now through to January 6, 2020 UTC Holidays on the Green
The Mall at University Town Center, 140 University Town Center Drive, Sarasota

Featuring a real ice skating rink, ice sledding, horse drawn carriage rides and a classic carousel. Friday's and Saturdays at 7 pm enjoy holiday movies on the lawn.
In the spirit of the season we hope you enjoy these holiday events.

Note
:
Anna Maria Island Condo Rentals
offers the above company names and affiliated links as suggestions only. We are not receiving commissions from the above and are listing only to assist our guests. We recommend services that we or close friends and family have experienced.