Where To Stay On Anna Maria Island – Guest Comments & Reviews

Staying On Anna Maria Island – Why Our Guests Chose Anna Maria Island Condo Rentals
There are literally thousands of vacation rentals on Anna Maria Island. Choosing one when you're looking online can be daunting. You narrow it down to two or three, but how do you decide which one is the right one for you? What is the best location and how do you know? Do you pick a condo on the lower floor or upper floor? One with a view of the pool or with a view of the beach? How do you know if you are getting the best value for your dollar? If you've never been to Anna Maria Island or maybe you have been here several times, deciding on just the right vacation rental can be challenging.
What is your criteria when choosing a vacation rental? We have spoke to many guests over the years and it seems price was the biggest factor in booking their rental with location being second. If price is a deciding factor then we've taken care of that for you. Since the inception of our vacation rental business we have aimed to keep our prices as low as we can while remaining competitive in a large market. We present the most well stocked and nicely decorated condos and provide the very best value for our guests. Not only are we one of the best values on Anna Maria Island based on price, but we offer far greater amenities than many other vacation rentals out there. We have stocked our condos with every thing we could think of so that when you arrive and you need a certain "anything"– it's there. And, if you need something that isn't there we will get it for you.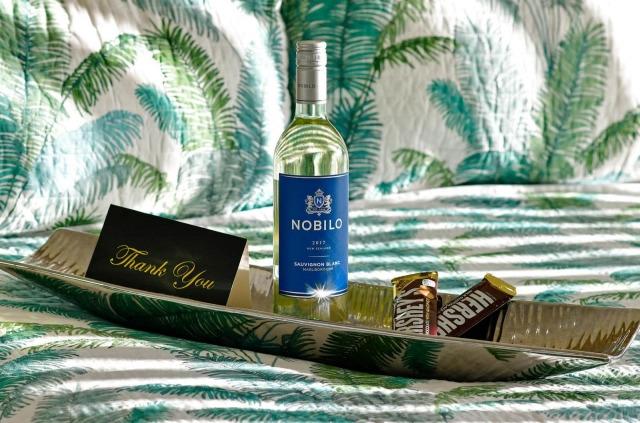 A few years ago we started to log some of our guest comments. Here are just a few comments that will help you with your decision to book your next vacation with us:
— "I love that you (Terry) were always available and answered all of my questions, even the silly ones."
— "We love your condo, it far exceeds our expectations!"
— "There are lots of great restaurants here that we haven't experienced yet because we can cook and grill here."
— "I love how your condos are equipped with everything!"
— "Nearby areas are beautiful, but I love the beachy feel of your condo and the Island vibe."
— "We loved that we could walk to so many restaurants and shops, we hardly used our car. We rode the free trolley several times, what a great service!"
— "Anna Maria Island is a bike riders haven. We love that it doesn't matter where you travel on Anna Maria Island the beach is always nearby. We enjoy riding our bikes on the quiet side streets watching families enjoy the Island and Island life. It makes us enjoy Anna Maria Island even more. Most of the homes are beautiful and nicely cared for."
— "We can easily ride our bikes from one end of the Island to the other – from Pine Avenue to Coquina Beach. Great exercise!"
— Our guests have compared Anna Maria Island to Bradenton, Sarasota and Siesta Key and tell us, "we appreciate that there's only one high-rise building on the Island" – the Martinique condominiums in Holmes Beach. They go on to tell us, "Siesta Key is a beautiful area, but it seems really touristy."
— "The beaches are spectacular and the weather too. Oh, let's not forget the beautiful sunsets as well!"
— "It feels very safe here. We feel safe wherever we go and the people are very helpful."
— "People are super-friendly. We found the Island people have a certain feel and are very welcoming. We absolutely love everything about Anna Maria Island and can't wait to come back!"
— "There is lots of things to do and see. You can attend one of the Island events, enjoy Happy hour and listen to live music at any number of local restaurants."
— "We loved jet-skiing and seeing what the Island looked like from the water."
— "We liked seeing a movie at the nearby Oakmont movie theatre and can easily to do a day trip to the many Orlando attractions."
We think we're doing a pretty good job and continually strive to provide the best guest experience. We have been blessed with outstanding guests that have blessed us with some pretty stellar reviews.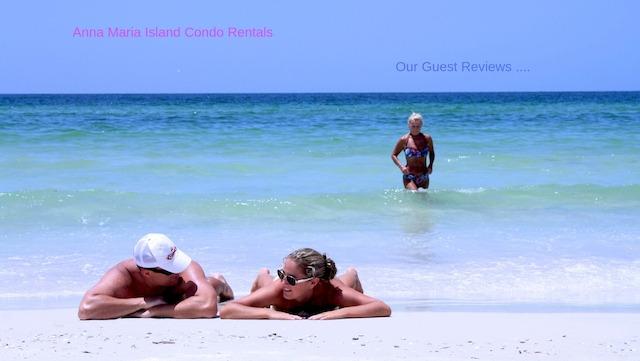 Have a look at our guest reviews and see what they had to say.
Review Date: 11/14/2018
Star Rating:
Loved it! 601 Gulf Dr. North, Anna Maria Island, FL, 34217, United States
Loved it! We had a great time. Loved the condo, pool and beach. Great restaurants nearby as well. Hope to return in the future.
Review Name: Amy Gorsuch
Review Date: 07/08/2018
Star Rating:

Exceptional place to stay!!!
We were very pleased with our stay, the condo and the exceptional customer service we received. Terry went above and beyond to call and email us to ensure we did not need anything and offered many suggestions of things to do. The unit was clean and one of the best we have stayed in. It is a minimal walk to the beach. There are so many things to do within the distance of the condo. We will be back next year and staying here again. Thank you for a painless vacation!
Submitted: Jul 8, 2018 | Stayed: June 2018
Review Name: Diana Paris
Review Date: 07/02/2018
Star Rating:

Beautiful Condo Wonderful Host!!!!
Absolute Anna Maria was in a perfect location . It was decorated beautifully and for a family of 4, it was all the room we needed. The kitchen was a joy to cook in; all new appliances and stocked with everything we might need. the condo overlooks the pool and beach so you really couldn't ask for a better location. All the neighbors were very nice and helpful and Terry was very attentive. Can't wait to return! ….
Review Name: Grant Townsend
Review Date: 07/01/2018
Star Rating:

Best location on the island!!!!
Perfect Vacation getaway. The condo was in excellent condition and VERY clean. Balcony view of the pool and an ocean view. This condo is walking distance to many different restaurants, ice cream shop, putt putt, pier, as well as little Beach shops. We parked our car on Saturday and didn't touch it till Thursday. The owner of this condo is by far the best I have ever worked with. Truly amazing people that genuinely want you to have a GREAT stay at their condo. I would HIGHLY recommend this condo and we will definitely be back!
Review Name: Tiffany Tarter
Review Date: 06/23/2018
Review Rating:

Loved it ??
Condo was clean and nice. Surrounded by Awesome restaurants. Anything you would want to do is close. Had a great time!!! Can't wait to return!!!
Review Name:
Carole & Mark Partington
Review Date: 05/09/2018
Review Rating:

Love The Property And We Are Regulars!!!
The condo was nicely and comfortably decorated.
Beds were very comfortable. Towels were fluffy and very good quality.
The kitchen was very well equipped with everything you need for your stay, including wine glasses and lots of pots and pans. And frying pans that didn't stick!
Condo overlooks the heated pool and has a view of the Gulf of Mexico.
The free trolley makes travel around the island a lot of fun.
Thank you Terry and family. We hope to book again next year!
LOVE AMI!
Review Name: Lisa Dibbins
Review Date: 12/02/2018
Review Rating:

"Sparkling Clean And Updated"
Unobstructed views. Just across the street is a very short beach access. Cars stopped for us in both directions every time we wanted to cross."
"Thank you!!! Not a single complaint!"
Review Name: Earl Benson
Review Date: 11/26/2018
Star Rating:

Thanksgiving At The Beach!!!

The location was great with a beautiful view, and the unit nicely renovated! Terry was easy to work with and even stopped by once during our stay to check on us. We would definitely stay here again in the future!
Review Name: Perry Headford
Review Date: 10/30/2018
Star Rating:

Paradise!
Terry was extremely helpful from start to finish
The condo was lovely with every mod con
The views from the condo were unbeatable
The island itself was paradise
Food was always fresh and beautifully cooked
The Waterfront Restaurant, Sandbar and Swordfish were our favourites
Over all stunning!!!
Review Name: Evan Stalcup
Review Date: 10/30/2018
Star Rating:

Beautiful Condo Right On The Beach
My family and I stayed at this condo and it was amazing. From the moment you walk in for the first time, you are taken back by the beauty this unit has to offer. Everything from the floor to the paint on the walls has been renovated and updated. It was so enjoyable to visit this condo. It offers the best views on the beach with an outside deck and a master overlooking the ocean. The unit itself had everything you needed to have a great time on the beach and to just relax and enjoy being on island time. The condo is also close to so many things to do on the island, plenty of places to eat, shop and do adventures, walking distance. There is also a free bus trolley which will drive you around the island so you never have to worry about anything and getting home safe. The best part of this place are the owners, Terry is very easy to work with and super accommodating. He told us the best places to eat, where the locals go! And gave us everything we needed to have the perfect vacation. Couldn't say enough good things about this place, definitely will be making a return trip and highly recommend anyone wanting the perfect get away to book this unit.
Review Name: Alison Linebarger
Review Date: 18/23/2018
Star Rating:

Beautiful view and Great Condo!!
This was our first visit to Anna Maria Island and we will definitely be back. Even with the red tide we had plenty to do and the views made up to not being able to get on the beach. The beach is beautiful at this location. The condo was exactly as described and very comfortable. We would book now for next year if we knew our schedules.
Review Name: Kaeyla Coffman
Review Date: 09/10/2018
Star Rating:

Our PERFECT Summer Vacation Every Year!
Terry & Sandy have always went above and beyond to make our stay amazing. I've been stashing with them since I was a teenager and I now have a husband and family of my own staying in the same unit and location I always have. There is no better place in Florida than to be in a vacation rental that is just like home. I can't thank you Terry & Sandy enough for opening your homes with my family to share the love of the island with us as well. Each and every year the memories created are once in a lifetime and I am forever thankful for your condos! See you next year!
Submitted: Aug 10, 2018 | Stayed: July 2018
Name: Dina Paris
Review Date: 07/02/2018
Star Rating

Exceptional Experience On Anna Maria Island!!!
This condo exceeded our expectations. When you walk in the view is the first think you notice and it is mesmerizing. Beautifully decorated with no expense spared. All decor is modern and appropriate with muted tones and designed for comfort. The flooring is a light colour of white, greys and light blue but its texture is soft on bare feet. The showers have to have a mention as they were beautiful with granite shower walls and rain fall shower heads. Perfection! Terry was a wonderful host. He checked in on us from time to time to offer suggestions on restaurants and to see if we needed anything. We took his recommendations and he didn't lead us astray, wonderful food. Sitting on the balcony at night was a favourite pastime. Terry was stocked up with beach chairs, umbrellas, toys and towels. The beds were so soft! you sink right into them. Thank you Terry and Sandy for sharing your beautiful condo with us and we hope to see you soon…Diana Paris
Review Name: Donna Chrilla
Review Date: 06/18/2018
Star Rating:

Wonderful Condo And Owners Are Super!!!
This is the 2nd time we stayed at this condo! We love it and will definitely stay again! The owners just recently did many updates and its beautiful! Beautiful ocean views and steps away from the beach which is never busy in that area! Terry the owner is helpful with anything thing that you need..where to eat…do you need any information …is the condo good..super awesome owners to work with for sure!! Close to everything on the island and you can take the shuttle if you do not want to use your car! Would definitely recommend this condo to anyone!! Once again THANK YOU Terry and Sandy and family for sharing your paradise with us!
Donna and Tony
We're very proud of our 5-Star reviews and grateful to each and every one of our guests. We believe that you can count on personal care, quality and value when you book with us. So when it's time to book your next 5 star vacation please contact us and see for yourself why our guests chose us over all the others.
Note: Anna Maria Island Condo Rentals offers the above company names and affiliated links as suggestions only. We are not receiving commissions from the above and are listing only to assist our guests. We recommend services that we or close friends and family have experienced.
The content of this blog is not to be copied, adapted or shared without the written consent of Anna Maria Island Condo Rentals.

Travel Tip created by Anna Maria Island Condo Rentals in association with Vacation Soup